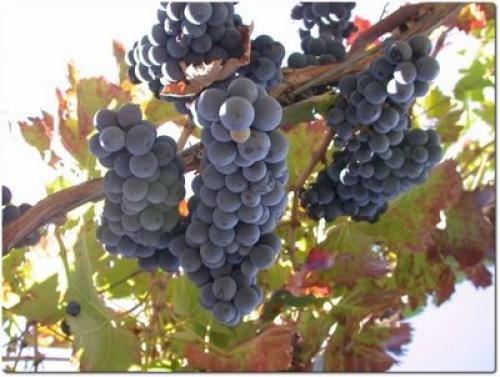 Although not internationally famous for its' vineyards, Le Marche does produce some wines of high quality most notably Verdicchio dei Castelli di Jesi and Falerio dei colli Ascolani among the white wine and Rosso Conero and Rosso Piceno among the red wines. Vernaccia, a well known sparkling red wine, is from the Macerata province.
Quality wines in Italy receive the label DOC, Denominazione d'Origine Controllata or the more prestigious DOCG, Denominazione di Origine Controllata e Garantita. These labels are designed to encourage the production of quality wines and strict rules are applied such as the type of grapes to be used in the wine and the alchol levels. Wines for everyday consumption are either labelled Vino da Tavola or IGT, Indicazione Geografica Tipica. The latter are wines considered to be of a higher quality than simple table wines but not up to the standards of DOC.
Rosso Conero, a full bodied red wine, is produced from a minimum of 85% Montepulciano and a maximum of 15% Sangiovese grapes. The wine has to be left to mature for at least two years before being consumed.It should be served at 18 - 20C with meat dishes, game and cheese.
Rosso Piceno is a wine with a long history, named after the tribe that inhabited the region in ancient times. The wine is produced up to an altitude of 700m from Montepulciano and Sangiovese grapes in the provinces of Ancona, Macerata, Fermo and Ascoli Piceno. The wine earns the additional title of superiore if, among other requirements, it is left to mature for at least a year. It is best drunk at between 2 and 5 years old with meat or cheese dishes.
Verdicchio dei Castelli di Jesi and Verdicchio di Matelica are made from the verdicchio grape thought to have been introduced to the Marche in about 1400 from the Veneto. Both wines have to contain at least 85% of these grapes. The wine is dry with a pleasant bitterish aftertaste. It is best drunk with fish, white meats or vegetable dishes or as an aperitif and served at about 8-10 C for young wines and 10 - 12 C for those wines matured in wood.
Falerio dei Colli Ascolani - the name of this white wine derives from the Roman city of Faleria today known as Falerone. It is produced exclusively in the Ascoli Piceno and Fermo provinces below 700m. It is made from the Passerina, Pecorino and Trebbiano grapes. The Passerina and Pecorino are old grape varieties having their origins in the Marche. The wine is dry and slightly acidic. It is best drunk at about 8-10 C with fish, white meat and cheese dishes.
Vernaccia di Serrapetrona is a sparkling red wine made since ancient times but only in limited quantities according to a special technique that involves drying half of the grapes. It consists of at least 85% vernaccia nera grapes. The wine can be sweet or dry, the former is served as an accompaniment to dessert. The dry wine is for drinking without food or possibly with meat. It is left to mature for one year before consumption and should be served at about 12-14C.
The origins of Vino cotto (literally cooked wine) are unclear. Some think the Piceni tribes in about 10th century BC first made this fortified wine, others consider it to be a product of the Greeks from about 4th century BC. Certainly the Romans used to drink it at the end of their banquets and the local Marchigiani contadini have always drunk it on special occasions. It is made in Abruzzo and Le Marche. Loro Piceno, not far from Casa Carotondo, is particularly known for vino cotto and celebrates it with an annual summer festa. The must, from any of several local varieties, is heated in a copper vessel where it is reduced in volume by up to a half. After fermentation, it is aged in cask for a few years, a little new wine being added each year to make up losses due to evaporation. It is a ruby-coloured wine, somewhat similar to Madeira, being slightly sweet with an alcohol content of about 14%.
Mistra and varnelli are the local favourite aniseed digestivi. Mistra is the home produced liquor, while Varnelli is commercially produced.
There are a number of cantina or sales outlets located reasonably close to Casa Carotondo so you can try the local wine during your holiday. There are also a couple of "wine routes" you can drive taking in Le Marche wines as well as some cultural sights.
To find out more about Le Marche wines try these websites: winecountry.it or italianmade.com