See on Scoop.it – Living in Italy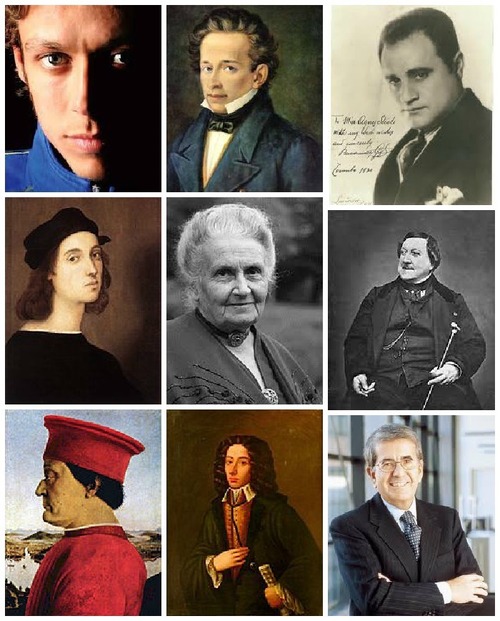 Whilst that beautiful Italian region nestling between the Apennines and the Adriatic- Le Marche – has only been "discovered" relatively recently by foreign visitors, it has curiously been the birth place of some of the world's most famous Italians!
Whilst the painter Raphael's final resting place may the Pantheon in Rome, where a small crowd is always to be found gathered around his tomb, this perennial High Renaissance favourite was in fact born in Urbino in 1483. Although small, 15th century Urbino had acquired artistic importance during the lifetime of Federigo da Montefeltro, the first Duke of Urbino who died in the year of Raphael's birth.
The Sibillini mountain range is sometimes referred to as the Monti Azzurri – literally the Blue Mountains – a description taken from Memories (Le Ricordanze), an autobiographical poem by Giacomo Leopardi (1798 -1837) which invokes childhood and adolescence memories including the views from Recanati towards the Sibilini and the Adriatic sea. The works of Italy's greatest lyric poet Giacomo Leopardi are obligatory reading for every pupil in Italy – think of how Shakespeare is regarded in the United Kingdom and you get an idea of his importance to Italians and his place in the school curriculum! His birth place at Recanati is now a shrine to his life with streets and squares all changed to Leopardi-themed names and his home a museum.
Recanati was also the birthplace of celebrated tenor Beniamino Gigli (1890-1957) although arguably the region's most famous opera connection is that it can boast to being the birth place of Gioachino Rossini. The world famous composer of The Barber of Seville was born in Pesaro in 1792, where every year since 1980 a huge and internationally renowned opera festival – The Rossini Opera Festival – has been held in his honour.
Mario Giacomelli was born in Senigallia in 1925 where he also died in 2000. He is famous as the photographer who put Le Marche on the map with his stunning landscapes of the rolling Marche countryside predominantly taken in black and white.
And finally, a famous woman from Le Marche – Maria Montessori (1870 – 1952) – the Italian educator and humanitarian whose Montessori method of education is in use today in schools throughout the world. She was born in Chiaravalle in the province of Ancona.
One of the most well known Marchigiani in the world today is MotoGP motorcycle champion Valentino Rossi who hails from Tavullia in the province of Pesaro. A charismatic personality and motorcycling genius he's a national hero in Italy and has been a huge ambassador for the sport.
See on www.livinginitaly.com